इंटरव्यू
If the Cow is Your Mother, You Bury Her: Gujarat Dalits Cry Liberation
About 800 committed activists began the Dalit March to Self Liberation, an 81 kilometre walk that is being likened to the Washington March led by Blacks that took place 53 years ago. Sabrangindia has been carefully tracking the Dalit upsure in the labouratory of Hindu Rashtra (Hindu State) for the past several weeks. As the march began at around 10 a, from Vejalput in Ahmedeabad, Jignesh Mevani, the 35 year old Dalit lawyer activist who has become one of the faces of the upsurge spoke to Teesta Setalvad, Co-Editor, Sabrangindia in an exclusive interview.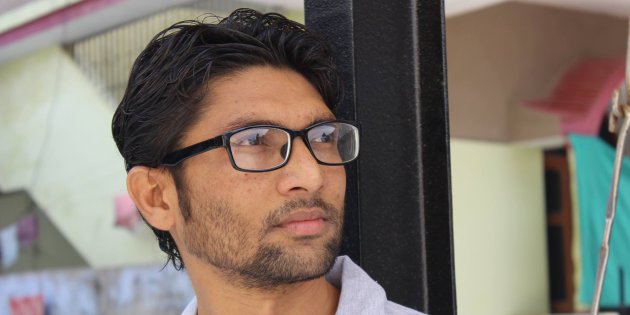 Jignesh Mevani
What is the significance of the Aazadi Kooch March?
The uprising in Gujarat has been historic. Last Sunday, on July 31, 2016 20,000 Dalits of Gujarat took an oath, swearing by Dr Babasaheb Amvedkar, that they would renounce, give up in protest the filthy, de-humanising work of lifting dead carcases, cleaning sewers and gutters and streets, all filthy work designated to them by a rigid and discriminatory caste system, the Hindu caste order. This was a milestone. We hope that this inspires Dalits from all over India. That it has started from Gujarat is historic.  
The Padayatra, the March is the next step to consolidate the demands of the uprising and agitation. The march, covering 81 kilometres from Ahmedabad (Vejalpur) to Una will traverse hundreds of villages spreading the message and the collective demands of 30 organisations. We will dialogue with Dalits along the way; we will speak to OBCs and other communities about our demands for a renewed liberation.
Dalit chetana ko jagaani hai…
We are demanding alternative employment, dignified occupations. We want to till land, free ourselves from the indignity of carrying dead carcasses of cattle, be they cows or buffaloes, cleaning sewers and gutters and the streets. This is a revolt against the indignities of the caste system dumped on us, for centuries.  
Will it be easy to abandon the livelihoods of generations…
We know how very difficult it is. My father himself performed this occupation for years; it was the only source of income for us. We know it is not easy to throw off this work and demand dignified alternatives...but we are determined to try, through a movement.
Dalit ka astitva isi se mukt hone se juda hua hai…
Dalits can only be truly free with alternate, dignified, work.  
What is the alternate work that you are demanding?
In Gujarat, the Gujarat Land Ceilings Act and the Government's Agricultural Policy have provisions to apportion 5 acres each of land to Gujarat's Dalit families. This must be done. Immediately. Brooking no further delay. A government that can grant land, virtually free or gratis to Adanis, Ambanis and Essar surely can grant land to Gujarat's Dalits? This is a social revolution for Dalit's economic upliftment.  
We realize also there are contradictions within the wider Dalit caste/communities—that is the sub-castes. We realize that this ius our greatest challenge, the 1,500 sub-castes within/among Dalits; an issue that is difficult to resolve. Among this disvision, for the wider upliftment of the Dalits, keeping the issues of economic upliftment, social emancipation, the divisions of sub-castes and the crucial gender issue we are hopeful of taking this movement forward [to every corner of Gujarat and nationally.
We appeal to all Indians, democratic and secular, be they Gandhian, Communist, Feminists or from non governmental organizations to join this movement for upliftment and emancipation.
Marela pashoo tamhe rakho, Amne Jameen Aapo
(Keep the Dead Cattle, Give us Land) is the Slogan, the Driving Force behind this upsurge.        
We see this as a movement against the caste system and globalization. Botht he caste system and globalization must be defeated.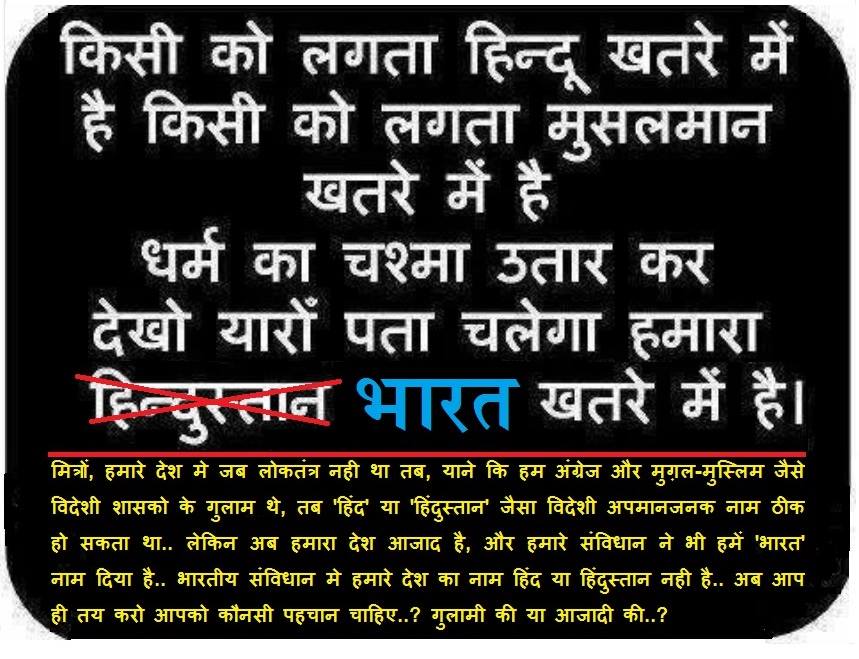 You and your colleagues have made strong comments on the Gujarat Model of Development? How has this model affected the most marginalized sections of society?
We feel cheated, defeated and frustrated by the Gujarat Model of Development. This is why Gujarat's Dalits, supported by all right thinking individuals from Gujarat and outside are demanding an end to the oppressive cultural and social practices that are a direct result of the caste system.
The Video Showing the Aazadi Kooch# Yatra Being Flagged Off with Young Girls from the Vakmiki Caste Offering Sweets


Chalo Una! Flagging off Ahmedabad to Una rally
Chalo Una! Flagging off Ahmedabad to Una rally. Girls from Valmiki Samaj flagged off the rally.
What are the Ten Specific Demands that the Aazadi Koon March is Making?One
The Prevention of Anti-Social Acts (PASA) should be applied to all Accused for the Una Thrashing and Humiliation of Dalits on July 11 so that they are re-arrested when released on bail. All other accused should be arrested forthwith  
Two
Police Officers Complicit in the Humiliation and Beating of Dalit Tanners on July 11 should be Speedily Charged and Prosecuted with Sections of Criminal Conspiracy and Atrocities Act included against them  
Three
Frivolous complaints against 70-80 Dalits lodged last Sunday, July 31 –43 such frivolous cases were lodged by the Gujarat police in Dhodka alone—simply for agitating and participating in the historic demonstration last Sunday (July 31) should be withdrawn speedily and immediately.  
Four
The charges and prosecution of those Police Officers found guilty of shooting to kill, using AK 47s, peacefully protesting Dalits in 2012 (Thangadh, Surendranagar) in 2012 should be expedited. It is four years now and not only has the Enquiry Report not made public but the charge sheet has also not been filed!  
Five
Special Courts for Offences under the Atrocities Act, a must under the law should be set up in all 25 districts of Gujarat state.  
Six
Five Acre Plots must be Duly and Fairly allotted to Dalits forthwith as is required under Section 3(1)(f) of the Atrocities Act.  
SevenA
ll Nagar Pallikas (City Corporations/Local Bodies) in Gujarat should pay the Safai Karmncahris wages on par with the Sixth Pay Commission.  
Eight
A Reservation Act should be enacted in Gujarat immediately. Today all reservations/affirmative actions in Gujarat are at the discretion of the Exevutive and are initiated or effected only through a Government Resolution/GR.  
Nine
Budgetary Allocations for Scheduled Castes and Scheduled Tribes (SCs/STs) should be used exclusively for these sections. Today the funds so allocated are diverted elsewhere by the Gujarat Government.  
Ten
Gujarat Government should Apologise Publicly Before Dalits of the Country for Withdrawing and Pulping the Book on Dr Babsaheb Ambedkar that spoke about his Radical Thoughts on Hindusim and the 22 Point Oath he Took to Convert to Buddhism in 1956.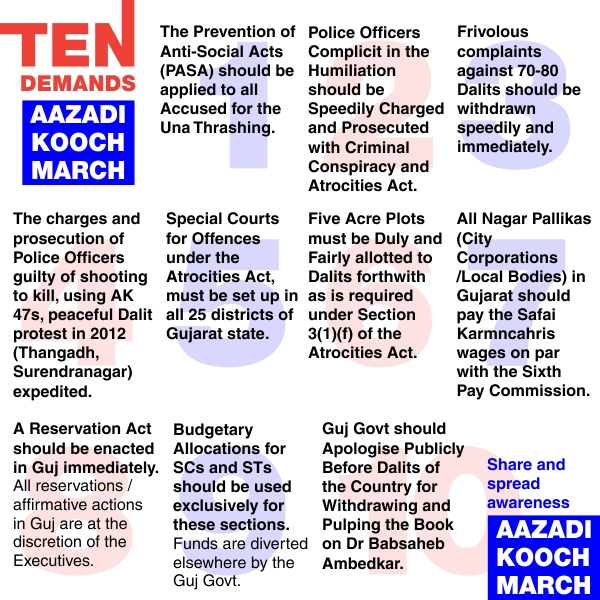 Official figures point to a 44 percent increase in violence against Dalits in 2014, the year in which the BJP came to power at the Centre, as compared to 2010. A full 30 percent of the 47,064 crimes in 2014 were committed in four BJP-ruled states -- Rajasthan, Madhya Pradesh, Gujarat and Chhattisgarh.
Just in last few weeks, Dalits were beaten by Bajrang Dal activists in Congress Party-ruled Karnataka, they were thrashed in BJP-ruled Gujarat and Maharashtra, and were urinated upon in Nitish Kumar's Bihar. Cow vigilantes attacked Dalits in Lucknow even while the agitation in Gujarat was underway.
Further Demands of the Aazadi Kooch March also also include:
The 1,20,000 applications for Land under the Forest Rights Act received from Adivasis by the Gujarat Government should be immediately distributed as per the provisions of the law.
Dalits of Gujarat are demanding licensed weapons for self-defence. Security is a huge issue for Dalits of Gujarat. We do not feel safe in Gujarat, we are being attacked in Villages.
Taleem (Training/Education) Centres to Teach Dalits Martial Arts, Judo Karate like they do for other Castes and Communities during the Khel Maha Kumbh.
Smart Centres for Dalits to Enable them to Rise Over the Social Ostracisation and Boycotts and Live in Sattelite area, Narangpura and Navrangpura's posh localities
Narendra Modi's Start Up India Campaign should have Special Economic Provisions for Dalits who want to leave this thankless work and rehabilitate themselves into Dignified Labour.