इंटरव्यू
54 Crore Drought-affected Indians make up 4th largest Nation in the World: Yogendra Yadav
A Ten Day Padayatra from Latur (Marathwada) to Mahoba (Bundelkhand) seeks to draw our attention to sustainable solutions and appeals to Young India to Commit One Week of their Summer to Drought Duty



Reassessment of National Priorities, Local Solutions for Water Replenishment and Storage are needed not Big Dams, Sugar Factories and Water Bottling Plants

Teesta Setalvad Interviews  Yogendra Yadav, leader Swaraj Abhiyan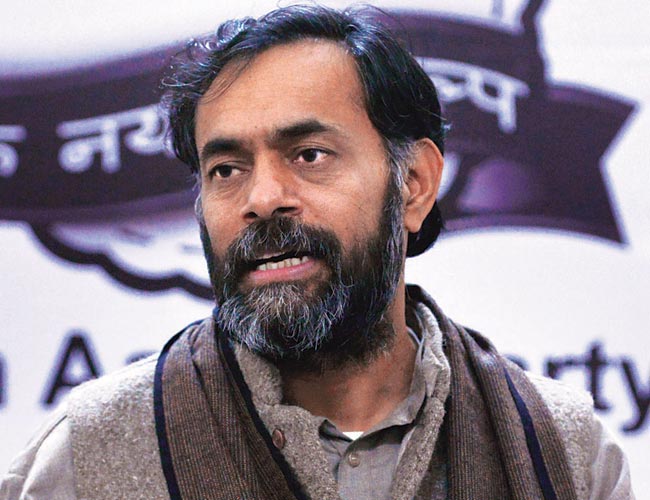 ---
 
The Swaraj Abhiyan computed a stunning, even scary figure during the hearing of the Drought Petition in the Supreme Court: 54 Crores People affected by Drought. That is a huge number that reveals the magnitude of the crisis.  Can we cope? Are we even trying ?YY: F
irst the number does not surprise me. You will recall that a couple of months ago, during the hearing of the Swaraj Abhiyan petition in the Supreme Court, we had newspaper headlines, for a day or a few days, declaring that 33 crore Indians
were affected by drought
.
This figure was straight out of the Government of India (GOI) affidavit, did not look at he magnitude of the problem and yet they looked so big.
Then we sat down and were stunned to find that these figures were a serious underestimate. What did we do? Relying on the official figures from the 2011 Census, all we did was compute from the notifications issued in 11 states (Bihar, Haryana and Gujarat have refused to declare a drought). These were the notifications that declared drought in tehsils and districts in 11 states; on the basis of these notifications we calculated --relying on the Census--how many persons living in these drought affected tehsils and districts,  therefore were affected.This is how we found, first that the figure was not 33 but 43 crores!
How could the government make such a mistake? We still call it a computational error and won't call it fraud: the kind of omissions by state governments that led to this huge gap of under-estimating that drought had affected 10 crore people (10,00,000 people!) was on account of serious omissions: the Maharashtra government, for instant counted the 15,000 villages notified as drought affected in its first notification but 'overlooked' the 12,000 villages notified as drought affected in its second!
These were serious omissions and guestimates unbefitting of government responses in the Supreme Court.
Besides these 'computational errors' there was more. The government of India (GOI) has set standards for declaring areas drought-affected and these relate to crops sowed, water levels etc and these are objective standards. Looking at these standards and applying them minutely to the areas affected, we found that there were many areas outside the ones declared 'drought-affected', that in fact met the standards for being so declared but should have been declared. Though no notifications declaring them as drought-affected were issued they met all these carefully laid out objective standards for actually being declared drought-affected. These are objective standards like moisture, rainfall, crops sowed and reaped etc but the government was refusing  to apply the. It was then that the figure rose to a
staggering 54 crores of Indians.
This figure is staggering. It shows that 25-40 per cent of the Indian population is affected by drought. It shows that in a state like Uttar Pradesh (UP), two-thirds of the population is affected by drought. This also means that if all the drought affected persons were put together in one geographical area this would constitute a huge body of people, a 'nation' that was fourth largest in the world! Now can you imagine what we are talking about?
Was the government sufficiently warned about what we are facing today?YY:
The crisis has been made worse by the fact that the scale could have been anticipated given the lead time and warnings we had.  In April 2015, the
Indian Meteorological Department (IMD)
had made out its case that this (last year) was likely to be a drought year. We had a lot of lead time to prepare ourselves, take measures that have been laid down in the manuals in detail. By July 2015 there was even less scope for doubt, the rains had come and they were not enough the IMD prediction was found to be correct. By
September 2015 the monsoon had been declared as officially over
.
All the steps that should and ought to have been taken have been outlined in the Drought Manual and given this lead warning and the signals from the ground, the response of the Indian state –not this government or that—but the state –Central  governments and state governments
has been pathetic. 
In 2016, six weeks ago measures have begun to be taken that should have actually –as per established norms and procedures begun to be taken in June 2015 itself, nearly 11 months ago!
Can you explain the significance of the Order of the Supreme Court dated 13.5.2016?YY: 
First of all I would like to state and put on record that we were very fortunate to be able to have counsel like Prashant Bhushan who could catch the years and attention of the Supreme Court. We were also lucky to have been patiently heard by a bench of the Court that appreciated the gravity of the situation. In December 2015 (December 16, 2015) we mentioned the matter and notice was issued. After that, from January 4 until May 13, 2016 there were 15 hearings at
short dates apart.
and in all the Supreme Court devoted 40 working hours to listening to arguments on this case. Now this is paying serious attention to a life and death issue. And this is much, much more time that the Indian Parliament (Lok Sabha and Rajya Sabha together) and the State Assemblies have given to discuss this huge humanitarian tragedy and potential ecological
disaster.
In a democracy, the Parliament and State Assemblies should have been the first port of call where the problems of the people, 25-40 per cent of India's population that votes them in, should have been debated. Drought and water scarcity should have been thoroughly discussed and the administration held accountable. Tragically this did not happen. Fortunately,
the Supreme Court stepped in.
(Note:
The entire judgement can be read here
)
What does the Swaraj Abhiyan now plan to do armed with this historic order? Since the Supreme Court has exercised its right of continuing mandamus, this means that a close monitoring will be on the cards with you, as petitioner organisation baring some or much of the responsibilityYY:
  We plan to follow up on the Court's orders. There are detailed directions to the government; Central and state with deadlines to be met. Our first task will be to ensure that the deadlines
are actually met; that notifications as directed will actually be issued.
In fact May 18, 2016 is the first deadline for the three states –Bihar, Haryana and Gujarat –that had not declared drought. They have been given a deadline period to reassess the situation and see if they will now declare it.
Then there are other issues related to the other detailed directions. The SC has directed that the food grains to be supplied under the NFSA, 2013 (National Food Security Act) will be supplied to
all families in the drought affected villages and that the ration card will not be the only proof of entitlement.
Now this will require careful monitoring at the ground level to ensure that the meagre relief/benefit actually reaches those affected.
We, that is Swaraj Abhiyan along with other organisations are planning a series of applications under the Right to Information (RTI) Act to be able to further report and monitor back to the Supreme Court. All in all, it is likely to be a very busy period. We will also have to carry out surveys on the ground in all the 13 states that in our view are badly affected.
Latur to Bundelkhand, the Swaraj Abhiyan will march to raise awareness. What do you expect from this exercise?YY: 
The 'Jal Hal Padayatra' will begin in Latur from May 21. For five days we will walk in Marathwada and then travel by train to Bundelkhand where we will walk for another five days. The march will culminate in Mahoba in Bundelkhand.
The name we have chosen is significant. Jal is for water and Hal apart from the plough also means 'solution'
hal nikalna,
finding a solution). We are looking for solutions that exist, solutions that are local, alternate experiments to preserve and generate water. This Drought is not about one year's deficient rainfall.
As Sainath says
it is about the thirst economy that is sponging up water irrationally with no perspective on replenishment.
This Drought is about an Agrarian Crisis and a Water Crisis of huge dimensions and we need to focus on this. It is not merely about rainfall deficit.
Big dams, Bottled water factories, Sugarcane Farming cannot be our solutions. If we want to face the Water Crisis head on then we have to use this unfurling tragedy to offer hope in terms of the solutions people choose and development options that we opt for. As we walk and as we mobilize we will speak and share information about the judgement of the Supreme Court and the people's entitlement from the state administration and government following the elaborate directions given.
Besides, we are also appealing to young Indians from all over India to join a 'Drought Duty Campaign.' We are simply saying that student and youth should spend one week in a drought affected village: to experience, assist and learn.
Ekta Parishad, National Alliance for People's Movements (NAPM) and Jal Biradari will be formally part of the Padayatra. Mazdoor Kisan Shakti Sanghatan (MKSS) will organise parallel yatras in Rajasthan at the same time. Rajendra Singh of Jal Biradari will be with us at Latur, PV Rajgopal and Pratibha Shinde too. Medha Patkar at Bhopal. We are appealing to all Indians to join.
You have expressed disappointments with the political class across the spectrum when you said that Parliament and State Assemblies spent far less time than the Supreme Court over this huge crisis. It is the political class that retains clout and power: how do you propose to make them more accountable?YY: 
The political class responds to the amount of decibel level we are able to generate and the numbers of people who get involved (that then threaten the votes!) For five months as we plodded on this issue there was no 'noise', then thank god someone went to the Bombay High
Court on the IPL issue
hand suddenly the
drought became news
.
The issue of water scarcity, planning, distribution, planning, developmental choices must eventually become electorally damaging for the political parties. For this we have to plan, mobilize and stand firm.  
Recently the GOI under Narendra Modi had gone back on a commitment to ensure compensation from the Coca Cola company in Kerala: the Union home ministry has informed the Kerala government that the President has been 'pleased to withhold' assent to the Plachimada Coca Cola Victims Compensation Claims Tribunal Bill 2011. Now this Bill was passed by the Kerala Assembly, unanimously, following the exhaustive report of the multidisciplinary High Power Committee that investigated the massive damages caused by the American company in Plachimada village, in order to elicit compensation from the recalcitrant company for the poor victims. How do you see this development?
YY:
As I said before the core of the issue if the 'Thirst Economy' as P. Sainath calls it. These corporate companies have long arms they try and influence everybody. Unfortunately the political class is playing a very limited role.
It is Coca Cola in Kerala and Water bottling plants in Marathwada apart from Sugar Cane farming. These are the choices that we need to seriously need to re-think as they seriously imbalance water reserves. We are not here talking about temporary relief. We are dealing with a water crisis, an agrarian crisis fuelled by deep vested interests: corporate, bottlers, urbanisers, sugar manufacturers and sugarcane framing.
The battle for a just and equal India will not anymore be limited to the domain of labour in factories and the minimum support price. This may not be principle arena of the battle. The areas will be Water, Education and Health. This is what the task is set before us.