इंटरव्यू
'Sanatan Sanstha is the Hindu Taliban'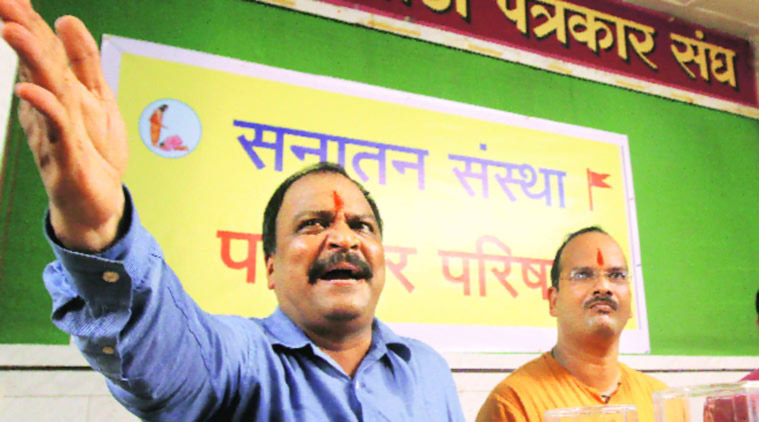 Image Courtesy: indianexpress.com
Haunting impressions of a fascist curriculum
By Javed Anand
In July 2010 well-known secular activist Suresh Khairnar spent several hours at the Goa headquarters of the Sanatan Sanstha and came out convinced that it is the most rabid Hindu organisation in the country, engaged in an attempt to Talibanise Hindus. For various reasons we were unable to publish an interview he gave to Javed Anand within days of his Goa visit. With recent news reports indicating that the Maharashtra government is preparing a case for a ban on this organisation, which has been implicated in several bomb blasts since 2008, we are publishing the interview now, as it remains topical.
Q: Khairnarji, you made a special visit to Goa just to visit the office of the Sanatan Sanstha (SS) and to find out more about the organisation, its aims and its activities. What prompted your decision?
A: The Sanatan Sanstha has often been in the news in the last two years. It is implicated by the Anti-Terrorism Squad of the Maharashtra police in a bomb blast in a Thane theatre in 2008, where the play Amhi Pachpute was being staged. A similar incident had taken place in Panvel town earlier where the same play was staged. That's the first time I got to hear of this organisation. Then, around Diwali in 2009, there was an accidental blast in Margao in which two of their own people died. Apparently, the accident took place while they were trying to plant a bomb somewhere.
Following the incident, I received several calls from secular activists based in Goa. Some people seem to think I am some kind of expert at conducting investigations. But I could not go then because of my other commitments.
Then some 15 days ago (in July 2010) I read an SS statement in the newspapers. It was claimed that it had made an application to the home ministry under the Right to Information Act, seeking information on whether the SS was implicated in terror activities and if so, on what basis. The statement claimed the ministry had given the SS a clean chit.
This news made me even more curious about the organisation. Since the SS seems to have no presence in Nagpur, the city where I live, I contacted my friends in Goa to try and collect more information on this outfit. But they insisted that I must visit Goa and do the investigating myself. So I agreed and on July 19 (2010) I went to Goa and headed straight for the 'Ramnathi' headquarters of the SS. It has a four-acre campus situated some 20 km from Margao town. At the reception centre I disclosed my real identity, stated the purpose of my visit and requested a meeting with any office-bearer of the SS.
I was kept waiting for nearly half an hour in the reception hall. It's a very impressive reception lounge, about 500-600 square feet in area, with a 15-foot high ceiling. On display all over were slogans on wall hangings and posters with slogans mostly in Hindi and Marathi calling for 'Hindu awakening' and 'defence of Hindus', etc. Also on display were highly provocative slogans targeting Christians and Muslims.
Q: Can you give some examples?
A: Yes, 'Hindus must speak out against their oppression by Goa's Christians', 'Look at what Muslims are doing all over the world' and so on.
Q: Please proceed...
A: After a long wait, I was received by Mr Prithviraj Hazare who introduced himself as the editor-in-chief of the organisation's mouthpiece, Sanatan Prabhat, which is published in several languages – Marathi, Hindi, English, Gujarati, Kannada. They have recently started a daily newspaper too, under the same title.
While I waited, I glanced through that day's Sanatan Prabhat, a four-page daily. The paper's declared mission was spelt out in the banner line: 'A newspaper to highlight and protest against atrocities on Hindus'. To my great surprise, not even one news item in its four pages had anything to do with the major news of the day or about daily concerns of people: political developments, price rise, unemployment, earthquakes, nothing. Every news item had to do with atrocities against Hindus.
Q: For example?
A: 'Muslim boys beaten up in Digras (a small town in Maharashtra, hundreds of kilometres away from Goa) for teasing Hindu girl'. All other news too highlighted conflict between Hindus on the one hand and Muslims and Christians on the other. The news reports were interspersed with 'editor's comments' such as: "How long are Hindus going to tolerate these atrocities?", "How long will Hindus tolerate molestation of their women?" The comments were all in bold or larger fonts compared to the news text!
I introduced myself to Hazare as the national convener of the All India Secular Forum. I asked him whether it was true that the Sanatan Sanstha had got a clean chit from the home ministry with regard to terrorist activities. He replied in the affirmative. I asked him how this could be so, since his outfit had been implicated in the Thane/ Panvel blasts and also in the accidental blast in Goa. He claimed that the Goa chief minister had made a statement in the state assembly absolving the SS of any role in extremist activities. He added that no SS worker had been convicted in any court of law to date.
I asked him then about the history of the SS, its aims and activities. He said it was started in 1993 by Dr Jayant Athavale, a practising psychiatrist from Mumbai. Pointing to a person who was there, he credited him with being the first person to "establish" how what are claimed to be modern scientific discoveries and inventions – the atom bomb, aircrafts, computers, etc – were known to our sages and find mention in ancient Hindu scriptures. In other words, India was an advanced civilisation until invaders arrived and destroyed our civilisation and its achievements. It was on the initiative of this admirer of Dr Athavale's that the SS chose Goa as its headquarters.
Earlier, while I waited to meet Hazare, I was intrigued by the titles of some of the books displayed in the reception hall: 'Importance of ornaments', 'How ornaments influence our bodies', 'How our modes of dress, food habits influence our mental process'. To me these books and booklets seemed to be attempts at nothing but mind control. Incidentally, Dr Athavale is also known to have conducted workshops on hypnotism. Today, for the SS, he is no longer just a doctor but 'Param Pujya (His Holiness)', 'Paramhans (Spiritual Master)'.
While I was talking to Athavale, I noticed the presence of several foreigners, especially women who were dressed Indian-style, on the premises. I was told that these people had been impressed by SS literature and that is why they were there, to learn the Hindu mode of living and worshipping. Hazare claimed the SS already had 1,315 centres across the globe.
Q: In that case, should we not see the SS and its leader, Dr Athavale, as one among many new age gurus with a large following overseas?
A: No; according to me, the SS is the most rabid, aggressive Hindu organisation I have ever known. Certainly, there are many sadhus, mahants and maharajs who have contributed to the 'Hinduisation' of India (similar to the 'Islamisation' of Muslims) in recent decades. But of all the so-called Hindu spiritual leaders and groups that I have come across in my life, the SS is the most aggressive. They are nothing less than a 'Hindu Taliban'.
Q: Why do you say that?
A: I say this having glanced through some of their literature at the Ramnathi in Goa, seen their method of functioning, and looking at their growth chart. I cannot think of another organisation that has expanded at this exponential rate in a mere 17 years. The organisation was formed in 1993. In 2010 it has a magazine published in several languages from five different centres, runs a daily newspaper, claims to have published hundreds of books and booklets and proclaims a countrywide presence. What does all this tell us?
Q: You could say the same things about the sangh parivar too?
A: No, I would not say that. I live in Nagpur, the headquarters of the Rashtriya Swayamsevak Sangh (RSS). I often visit the RSS headquarters to find out what's being published, activities being planned, etc. I have been looking at RSS literature for a long time. To date I have not seen anything there compared to what the SS has been producing.
Q: Why? Doesn't the RSS also talk of atrocities against Hindus for over a thousand years and so on?
A: Yes, they do but they do it in a sophisticated way. The Sanatan Sanstha is crude, more head-on, more like Bal Thackeray. But Thackeray is a novice compared to these fellows. The SS, according to me, is way ahead of the likes of Thackeray, Praveen Togadia, Sadhvi Ritambhara. And they are an independent outfit, similar to that of Lt Col Srikant Purohit (Abhinav Bharat). What is particularly striking and disturbing are the inroads they have made in a state like Goa, otherwise known as a laid-back, peaceful society. The influence of the SS is growing rapidly in Goa. I will not be surprised if Goa is turned into another Kashmir-like situation by the SS in the coming years. Incidentally, their initial headquarters were in Panvel from where they have shifted to Goa.
Q: You believe this shift is a well-thought-out move.
A: No doubt about it. With a significant population in Goa being Christians and many of them being reasonably well off, convincing Hindus that they are the "enemy" should be a relatively easier task.
I asked Hazare whether there was any difference between the SS and the RSS. In a way our efforts are complimentary, we do not see them as rivals, he said. But was there any organisational affiliation? Hazare said, no, the SS is a totally independent initiative.
During the two hours or so that I spent in the reception area I had noticed the presence of around 15 people. Later, I was invited to lunch and was taken inside to the dining hall on the first floor. That's when I noticed that there were some 300-400 people, all busy doing their own thing in different rooms. I was amazed at the all-pervasive silence of the place, the trance-like state of the people there. No smiles, no light-hearted conversation, no laughter anywhere. It was as if everyone there was filled with some sense of purpose.
I was shown around the place and introduced to people. Here was someone who had left her job as head of the microbiology department of Goa University to join the SS. This computer engineer too had left his job and so had the SS's construction engineer who had held a senior civil engineer's post earlier.
Q: Why did they do so?
A: I was told they are here in the service of Hinduism just as Muslims and Christians serve their own religions. People find self-fulfilment in our organisation and that is why the message is spreading fast, I was told. Despite the glib talk however, I became increasingly convinced that Dr Athavale was using his own understanding of human psychology to mould minds just as the fascists had done in Germany and the communists did in the Soviet era. What is being attempted here is some cocktail of science and spiritualism which apparently finds favour with today's generation.
Q: But I am still unable to see the connection that you obviously do between the Hindu ritualism and spiritualism they claim to be promoting and the acts of terrorism that the SS is implicated in. You say they are far more dangerous than the sangh parivar could ever be; you call them the Hindu Taliban. Are you being oversensitive or overreacting?
A: Look, I have been a social activist for over 40 years now. For the last 20 years, since the 1989 carnage in Bhagalpur (Bihar), communalism has been my exclusive concern. Whatever I have read, heard, experienced, about Hindu communalism or Muslim communalism, from all the literature that I have studied of communal organisations – the RSS, VHP, Jamaat-e-Islami, Popular Front of India, Muslim League – from what I understand of Zionism and the Taliban, the SS belongs in a class of its own. I think of the speed with which it has expanded in a mere 17 years, looking at the body language of all the people I saw at the SS campus, almost all of whom seem to be in a trance, points to something disturbing.
For example, I saw a youth there, named Neelkanth, who I will remember for the rest of my life. I found the look in his eyes very disturbing. I walked up to him and tried talking to him but it was almost impossible to connect. He seemed like a completely programmed automaton who would not think twice about acting on any command from his handlers. Neelkanth seemed to me an ideal product of the SS project. I wondered if they produced Neelkanths in all their centres. And how many?
Very curiously, despite my repeated queries and offer to pay, they would not part with any of their printed literature. The answer was that they do not sell any literature on the campus. From where then could I buy their literature? "No, we don't have any such centres", was the response. All they gave me was a sanitised publicity brochure about activities like eye camps, etc. It was probably specially conceived for public consumption.
Q: This is really curious. An organisation with hundreds of centres across the globe, so many publications, books, booklets, CDs, acting so coy about parting with or selling any of its literature is surprising.
A: Isn't that interesting? Another interesting thing I noticed at the SS headquarters was the young children in the 10-15 age group on the campus, all dressed in similar fashion. Smart-looking, they seemed to come from well-to-do families, all of them sporting a shendi (pigtail). I asked Hazare about the children. He replied that the SS has started a school with an eight-10-year course for turning out purohits (priests). He explained that this activity had been initiated in view of the increasing difficulties Hindus faced in finding purohits for Hindu rituals and ceremonies. He claimed that the students were from good Hindu families who had been performing brilliantly in normal schools until their parents chose to enrol them at the purohit school. I was told that currently there were 11 children enrolled. Out of curiosity, I inquired about the caste background and was told that 10 of them were Brahmins while one was from a Kshatriya family. I asked whether students from Dalit or OBC (other backward class) families could also join. Why not, replied Hazare, the SS has no problems with it except that such children coming from poor backgrounds were more career-oriented. What about female students? No problem, said Hazare, pointing to the significant female presence on the SS campus.
Q: Did you meet some police officers, civil servants or politicians in Goa and talk to them about their views on the SS?
A: No. Unfortunately, I had only a day in Goa and had no time to meet others. But I did speak to activists from an interfaith group in Goa after my day at the SS headquarters. I shared with them my experience of the place and the people there and voiced concern that in the days to come the SS might turn Goa into a conflict zone like Kashmir. These activists had very little knowledge of the SS; none of them had ever visited the Ramnathi campus. I guess after the SS was implicated in the bomb blasts, they would have been even more circumspect about doing so.
Q: How would you sum up your understanding of the SS?
A: Based on my understanding of what fascism is, I have not the least doubt that this is a fascist outfit. The mind control at work, the trance-like state of the people I saw or met in Goa, the body language, the look in their eyes, their highly charged state, all these remind me of Hitler's SS at work in Germany. I have met people from many Hindu and Muslim communal organisations; the youth always seem so charged up. But there's something far more ominous here. I would say that I did not see normal mortals at Ramnathi. Instead, they all seemed to me to be malleable clay there to be shaped according to some grand design.
Q: The Shiv Sena, the Bajrang Dal, are no comparison according to you?
A: Absolutely. The Shiv Sena, for example, has virtually no literature with which to nurture its cadre. It stands on the shoulders of one individual. Even the RSS is not too concerned about flooding its cadre's minds with literature. Propaganda work at shakhas (cells) and shishu mandirs (schools) seem adequate for their purpose. But with the SS it is different. Here is a carefully-thought-out, all-embracing mind control technique at work. What alarms me most of all is their exponential growth. They claim they are growing rapidly in Goa, the Konkan region of Maharashtra, Karnataka and elsewhere.
Q: Does the SS share the sangh parivar's Hindu Rashtra ideal?
A: I believe their goal is the same. But the SS is like a different sect, just as even among the Marxists you have so many factions. Though I do not know this for sure, I would not be surprised if, like the Savarkarites and Abhinav Bharat, they too consider the RSS to be an impotent organisation.
Q: You were telling me earlier about some Goa minister's wife being involved with the SS?
A: Yes, it's a fact. I do not recall the name of the Goa minister in the cabinet but his wife is an SS volunteer and a regular fixture at their headquarters.
Q: So what should we expect from the SS in the days to come?
A: Let's see what comes out of the Thane, Panvel and Margao blast cases. Perhaps they slipped up, made some mistakes, and might change their strategy in the coming period. I am particularly concerned about their attempt to exploit the social demography of Goa.
Q: It seems that the SS has no problem as far as resources are concerned.
A: That's a good question. I asked Hazare about this. He replied that he was in no way concerned with finances and accounts.
Q: Is there anything more you'd like to add?
A: Just to say that I have not the least doubt that the SS is an experiment in building aggressive Hindu organisation and creating a Hindu Taliban in India.
Archived from Communalism Combat,, April 2011  Year 17  No.156, Saffronwatch